At Promatt 2017 Istanbul we are participating to present our quality and innovative products. You are invited to our stand;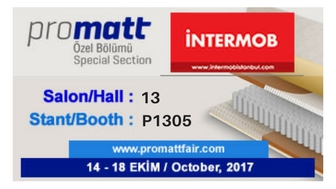 ProMatt Bed Manufacturing Sub-Industry, Equipment, Raw Materials and Machines Special Department İntermob in Tuyap Fair and Congress Center on 14-18,2017; Furniture Side Industry Accessories, Forestry Products and Wood Technology Fair will meet with our activities. All kinds of products (bedding machines, materials, accessories, etc.) ) leading manufacturers and ProMatt Special Division.
Why should you visit? l Promatt Special Section 2017
Interacting with company owners: You can meet and cooperate with the owners of domestic and foreign manufacturers and suppliers.
Procurement Center of the Bed Industry Subcontracting: ProMatt Special Section allows you to go ahead with the leading companies operating in every field related to bed production.
Europe's largest city; Istanbul: Istanbul is one of the world's oldest and largest city, has become a crossroads of land and sea trade routes and strategic location due to its central economic life in Turkey. The city is also the largest industrial center. Many headquarters and factory are located in Istanbul of Turkey's largest industrial enterprise. It is also one of the most popular tourism centers in Istanbul due to its history, monuments and artifacts, and its ownership of the Bosphorus